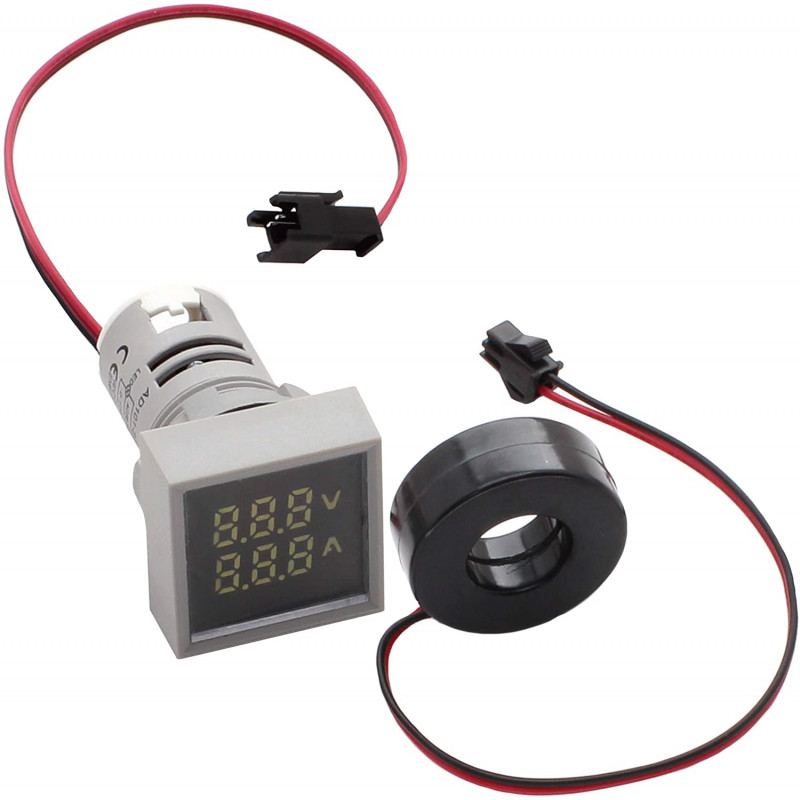  
Digital Led Display Voltmeter and Ammeter
Digital Led Display Indicator Voltmeter and Ammeter, Multimeter Voltage AC50-500V and Current Meter 0-100A, Gauge Meter Tester Volt Amp Monitor-AD101-22VAMS Model, Square Panel Grey Body, White LED Numbers
Digital Led Display Indicator Voltmeter and Ammeter has an operating voltage of 500V and current meter of 0-100A. Model AD101-22VAM; Inches length: 20.07; Display resolution: 1V, 1A; Mount hole diameter: 22 mm / 0.87 " (7/8 "); Bulb type: LED; Color temperature: Cool white; Lamp body material: ABS; Dustproof base; Heat dissipation holes; Protection degree: IP65; Certifications: CE.

WORKING CONDITION - Operating temperature must be between -20℃~80℃; Relative Humidity: < 95%; Insulation resistance: ≥ 2MΩ; Allowable voltage fluctuation: 2%; Continuous operating life: ≥ 30000H; Brightness: 95nit; CTI ≥ 600. Amp accuracy: ±2A; Voltage accuracy: ±2%. Normally workable when vibration frequency is 2-80Hz with acceleration of 0.7g. Pollution degree is 3, installation group is II.

VERSATILITY - 2 in 1 multimeter (dual) voltage and amperage gauge suitable for indicating signals in the circuits of power, telecommunications, machine tools. If the meter is properly calibrated it can also measure pressure, temperature and flow. Provides information (numerical display) about the electrical power difference between two points in a circuit (voltmeter) and the current draw and continuity (ammeter) in order to help users, troubleshoot erratic loads and trends.

SIMPLE CONNECTION AND EASY TO USE - Handheld, portable, small, exquisite workmanship and long service life. It can be operated without plugging it in, suitable for outdoor use. Has an LED (light-emitting diode) alarm light when the RMS value or peak value is greater than the range. There is no memory function and no automatic calibration.

Also available in a two pack with box plate, perfect for generator monitoring applications. 
No customer reviews for the moment.
Customers who bought this product also bought:
8 other products in the same category: