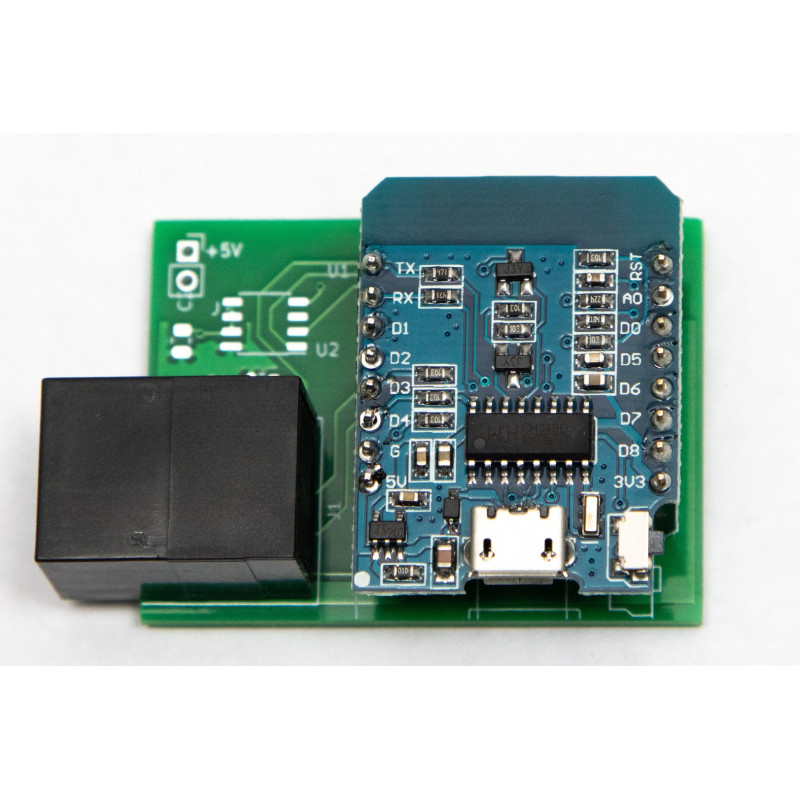  
D1 Mini RJ45 Breakout
Our Wemos D1 Mini RJ45 breakout pulls pins from the Wemos D1 mini to a standard RJ45 jack. This makes connecting up sensors to wifi incredibly easy without any soldering. This listing includes both the breakout board and the Wemos D1 mini board itself. One practical example is connecting door sensors for garage door automations as described on our Home Assistant page. Other sensor connections are just as easy and even the analog pin is brought out for things like water or temperature sensors.
A footprint for an LM75 temperature sensor is included on the board, however the sensor is not populated on this particular listing. Please contact us if you would like a board with this sensor.
Works great with Home Assistant, esphomeyaml, or custom code.
The pinout of the RJ45 jack is as follows:
1 = +3.3V
2 = A0
3 = GND
4 = D1
5 = GND
6 = D2
7 = GND
8 = D7
Schematic: esp8266_d1_rj45.pdf
No customer reviews for the moment.
7 other products in the same category: